Si Jomblo Awet
Kata orang, masa SMA masa yang paling indah. Kita biasanya menemui cinta pertama saat SMA, walaupun kenyataan saat ini anak SMP pun udah punya pacar.
Gue adalah salah satu penyandang gelar jomblo sejak lahir. Want to know my story?
Gue gak sengenes yang kalian pikir kok. Gue udah beberapa kali deket sama cowok, tapi yah gak jadian gitu.
So, gue bakalan cerita-cerita kisah gue pas deket sama beberapa cowok, yang gue inget yah!
Baca selengkapnya »
---
---
X-2 Liquid Squad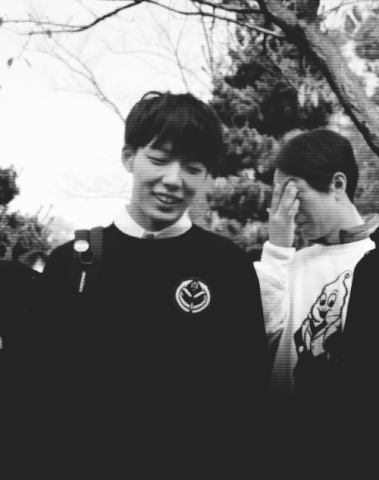 Tahun ajaran 2017/2018 resmi berakhir!
So, good bye my precious class! Yoksi, seperti yang udah gue bilang sebelumnya, kelas pertama gue di SMA itu yah X.2.
Want to more know about my class?
Baca selengkapnya »
---
---
Welcome, Senior High School!
So hello to around the world!
Yap i'm coming back after a few months haha.
Gue keinget blog ini karena di DM sama Rara di ig. Dia ini juga blogger jaman gue dulu yang udah pensiun lol.
Jadi, Juli 2017 adalah waktu tepat dimana gue resmi jadi seorang anak SMA!
Walaupun seragam masih tetep sama dengan pas di SMP (yap, i continued my shs in the same school lol, i'm still stuck in SLH Toraja), sensasi jadi anak SMA itu beda banget!
Suasana kelas yang beda banget sama SMP, belum lagi pelajaran yang dulunya hanya sebanyak jari tangan, sekarang udah ke sepuluh jari tangan+7 jari kaki.
Temen-temen yang dulunya bener-bener cerminan iblis, berubah jadi 30 malaikat yang menobatkan diriku yang barbar.
Anyone want to know my first class in SHS?
Yap, X-2.
Kelas ini itu kelas paling pojok, dan posisi paling tinggi, beserta punya teras sendiri. Walaupun punya parfum kurang sedap sendiri, dan harus rela kebanjiran pas ujan, kelas ini itu cozy banget. Posisinya, kata gue, strategis, walaupun naiknya kudu ngeluarain tenaga yang lebih banyak, dibandingkan pas SMP dimana gue tinggal belok kanan begitu abis lewati gerbang.
How about my classsmates?
Gak hanya pinter, temen-temen di kelas gue itu baikkk banget, depan guru. Setidaknya bukan tipe kelas trouble maker macam kelas 9D dulu.
Dan yap, dengan masuknya gue ke SMA,menandai tahun keempat gue punya blog nyampah ini. Gue mulai ngeblog sejak kelas 6 SD, and now i'm in grade 10.
So, welcome SHS!
---
---
What a heavy year...
So hello there! I'm comeback~
Welcome 2k17! My heavy year T,T
Lama gak ngunjungin dunia ini yah. Terakhir gue ngepost itu September 2016.
And,this is 2017!
Tahun dimana gue bakalan ngikutin Ujian Praktik, Ujian Sekolah, USBN, UNBK dan segala sepupunya buat nentuin gue pantes gak lulus dari SMP.
Pisah sama temen-temen yang lain.
4 tahun resmi jadi Blogger.
3 tahun resmi jadi Wattpader.
Bakalan ikutan MOS lagi yawlohhh
Berat banget sumpah, sampai kepikiran malas sekolah/?
Jangan lupa kegiatan gue yang bukan kegiatan sekolah, like akustikan or ngeband.
Jangan lupa urusan hati ini oohhh~
---
---
Who Am I?
Annyeong Chingudeul!
Long time no see:D Jadi gue tuh lagi kerjain tugas kan, eh tiba-tiba keinget blog ini. Jadi mampir dulu bentar.
Fia sekarang udah kelas 9 loh. Inget banget dulu pas masih kelas 6, pas masih newbie tuh aduh sampai berjam-jam depan laptop buat ngurusin blog.
Sekarang gue buat nulis di blog ini aja harus ngosongin waktu dulu.
Teman-teman blogger gue yang dulu mana?
Sumpah yah kangen banget sama kalian, kangen ikutan Segment lagi
Gue sekarang udah gak punya temen di dunia blog, semuanya udah pada gede, punya urusan masing-masing dan ninggalin dunia blog.
Sekarang gilirannya bocah-bocah yang dulu manggil gue kak jadi para senpainim di dunia orange huaaa.
Sejujurnya, gue pengen banget balik ke dunia blog. Gue dulu jadi jago bahasa inggris gara-gara blog, dan sekarang nilai gue tuh jeblok parah
POKOKNYA PENGEN BALIK
---
---
Being a EXO-L?
Yoyoyo~ Annyeonghaseyo, watashi wa Fia (?) /bahasacampuran /guebisanyacumajepang
Jadi mumpung ini malam minggu
dan gue jones
, maka gue bakalan curhat di blog kesayangan gue ini.
Jadi, semua makhluk yang kenal gue, pasti tau kalo gue itu Kpoper? (iyalah, orang gue update terus) So, dibalik keupdatean gue itu, tau nggak awalnya gimana?
Jadi, gue punya temen, satu temen sekelas, satunya beda kelas tapi dua-duanya deket sama gue, namanya..
VANIA AMADEA MENDENG
&
ESER SURYANTI SAMBARA
Berasa nulis sertifikat nikahan.-. Ok abaikan. Jadi mereka ini kan sering ngericuh ke rumah gue gitu, minjem laptop buat ngefangirlingan. Gue juga punya sepupu, kpoper, dan gue udah dijejelin sama hal-hal berbau Korea dari gue kelas 3 SD.
Jadi pas dua alien ini dateng ke rumah gue, mereka ngebuka-buka videonya EXO gitu kan, yaudah gue ngeliatin aja. Terus gue nanggepin, "Ih gayanya cem bencong." Yah gitulah kira-kira kalo ditranslate ke bahasa kekinian (?) Yowes si Vania sama Sury ini langsung ngebela diri gitu kan, "Enggak bencong juga sih." Gue mikirnya ih apaan sih gue kok ngeliatnya kayak gitu?
Habis itu mereka bicarain MAMA gitu kan, terus gue juga ngedenger. Mereka bilang katanya ditayangan jam 1 subuh, tapi gue nggak tertarik. Yaiyalah, gue kan bukan kpoper waktu itu.
Gak taunya, gue bangunnya kepagian pas hari tayangnya MAMA itu. Bukan kepagian lagi, gue tidurnya jam 5 sore, gataunya jam 2 malam udah bangun. Gue yang lagi gak ada sesuatu untuk dilakukan pun ngeganti channel TV gitu kan, gataunya nemu MAMA. Karena ga ada yang asik, gue pun nonton MAMA. Gak taunya, gue suka sama dance Overdose itu kan.
Gue pun ngecheck history akun youtube gue, dan seketika jejeran video KPop langsung mejeng di history list gue. Gue pun ngebuka satu-satu, pengen ngeliat dance yang bagus, soalnya waktu itu gue kecantolnya sama dancenya doang.
Dan entah mengapa, gue malah tiba-tiba penasaran sama ini Boyband, yang katanya keren bets menurut temen-temen gue. Yaudah sih, dari situlah bermulanya gue jadi EXO-L.
Gue kadang masih suka "ngatain" EXO sih. Kayak...
"Ih apaan sih rambutnya Kai kok kayak gitu, cem mamah arisan aja."
"Dancenya Call Me Baby kok ada ngondek-ngondeknya gitu yah?"
"Aneh banget mah kalo rambutnya belah tengah gitu, kenapa gak sekalian di botakin noh tengahnya. Bagusan juga kalo pake poni, lebih cakep."
Dan gue pun berubah dari EXO-L jadi kritikus.
Sekian kisah perjalanan gue, kalo ada pertanyaan silahkan hubungi nomor di bawah ini.
Annyeonghaseyo~
Sofia Elvristy Tanduklangi
Kyungsoo Yeoja Chingu
Gue lupa alamat gue -_-
Label: Curhat, EXO, Fia, Gajebo, KPop
---
---
Tipe-tipe Penonton Konser Korea
Annyeonghaseyo Chingudeul!
Indonesia adalah negara yang jumlah penduduknya mencapai 200 juta jiwa. Nah, di anatara ratusan juta penduduknya itu, kebanyakan adalah remaja-remaja yang sukaaa banget sama K-Pop (salah satu diantara sejuta umat itu adalah gue). Makanya, Indonesia ini jadi sasaran utama buat para Boyband atau gilrband Korea untuk menggerlar konsernya di negeri kita ini.
Nah, karena remaja Indonesia suka banget nonton konser Korea, kali ini gue akan ngebahas tipe-tipe penonton konser Korea, menurut riset yang gue lihat dari nonton
streaming
gitu./iyaguestreamindoang
Baca selengkapnya »
---
---
Older Post